On March 8th & 9th, 2017 Ashleigh Walters, President of Onex, Bob Zharuta, President of NWIRC and Susan Hileman, Strategic Business Advisor of the NWIRC went to Capitol Hill to speak on behalf of all small- and medium-sized manufacturers.  Ashleigh was one of the client representatives that spoke on the impact the Manufacturers Extension Partnership (MEP) Program has on Onex. Ashleigh explained projects such as the STEM internship to PA Congressmen:
"Over the last five years, Onex has turned to the PA MEP Northwest Industrial Resource Center (NWIRC). One of the initiatives we undertook was to participate in their Internship program for Science Technology Engineering and Mathematics (STEM).  The MEP center helped to assess our needs, source and recruit a graduate- electrical engineer.  The intern worked with Onex engineers to use technology that we had not used before to improve a client's furnace operation. "
"The student's work was above our expectations and he was offered full time employment upon graduation. This example from our local MEP is a win, win for the manufacturer and a new generation of young people trying to gain relevant experience and enter the next generation manufacturing workforce."
What is the MEP Program?
American Small Manufacturers' Coalition (ASMC) members supporting the MEP program to improve the industry's competitiveness through innovative solutions to manufacturers' product, process and people needs. MEP is a federal public-private partnership that provides services to small- to medium-sized manufacturers and is managed by the National Institute of Standards and Technology (NIST) and implemented through a network of industry-led centers located in every state.
What is Hill Day?
Once a year, ASMC members and their client representatives gather in Washington, D.C. for the annual "Hill Day" event. The purpose of this event is meet with the respective Congressional delegation to emphasize the importance of manufacturing and to support the Manufacturing Extension Partnership (MEP) program.
A few representatives of small to medium sized manufacturers expressed their successes with the MEP during the full PA delegation that included every PA congressmen. Those whose spoke on behalf of their experiences included:
Chris Tarsa, President of C.L. Sturkey, Inc., manufactures surgical and microtome blades.
Ashleigh Walters, President of Onex, Inc., manufacturers and services furnaces for high temperature industry.
Bruce Daniels, CFO for Medico Industries, Inc., manufacturers munitions and other classified products for the DoD.
P. Habets, President of H&W Global Industries, Inc., provides hard coat anodizing and coating services for industrial and military clients.
Individual Meetings with Congressmen
Ashleigh then sat down with congressmen in an open discussion. She met with Congressmen Lou Barletta, Senator Bob Casey, and Senator Pat Toomey. Congressmen Lou Barletta is a firm believer in the MEP program. As Ashleigh spoke he was connected and could understand the importance of programs such like STEM. He shared his experiences with a program he started called SHINE, the after-school program that teaches children STEAM (Science, Technology, Engineering, Art and Math). Senator Bob Casey's father started the MEP program in the state of PA, and Senator Casey is thrilled the program has succeeded for Onex. His industry expert staffer, Kichelle, asked that we provide more case studies to Senator Casey so that he could share them with his fellow colleagues. Senator Pat Toomey feelings on the matter were not so supportive, however, after the meeting his views had changed from negative to neutral.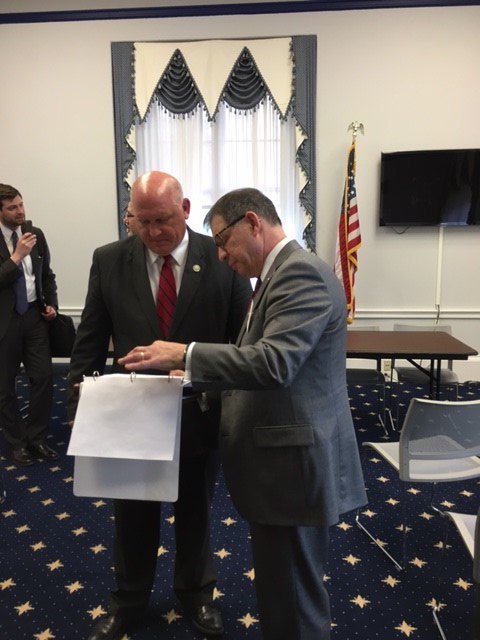 Bob Zharuta also brought a few paper copy stories of those who could not attend. With the many success stories and examples the manufacturers shares with the members of the Congress and Senate the message was clear, MEP has assisted many companies, like Onex, and show a strong growth potential.
What's next?
Senators and Congressmen have requested to receive more MEP supported success stories to share with their colleagues. As well as, Representative Mike Kelly has requested to tour Onex Erie Plant sometime in April.
 "Carrie Hines, the President of ASMC, wrote me (Ashleigh Walters) the following email, "I think everything went great and we heard a lot of positive feedback.  Now, we just need to keep up the communication to make sure all members follow through on their support."